2023 National Jamboree, 7/18/23-7/28/23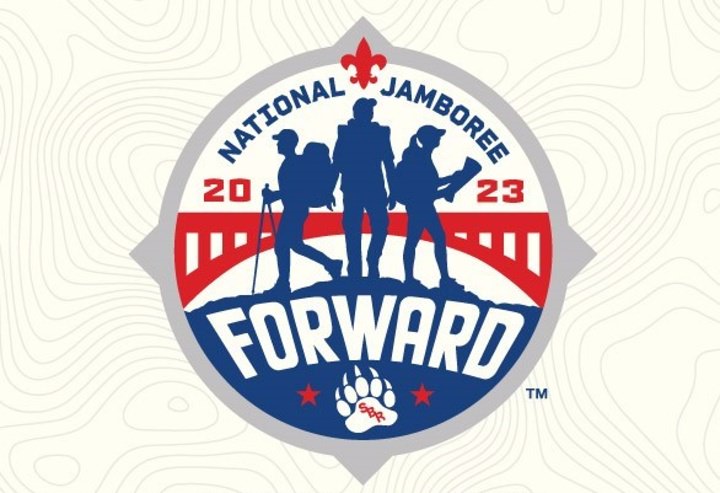 JULY 18-28, 2023
SUMMIT BECHTEL RESERVE, WV
Are you ready for National Jamboree 2023?
What's a Jamboree? National Jamboree 2023 is 360-degrees of fun, friends and fellowship with hands-on adventure that takes you places you never thought you'd go and challenge you to try things you never thought you could. Join VHC's 2023 National Jamboree Contingent at Summit Bechtel Reserve, a training, Scouting, and adventure center for the millions of youth and adults involved in the Boy Scouts of America and anyone who loves the outdoors.
Jamboree is more than a destination. It's the adventure of a lifetime. And there is simply nothing else like it on the planet!
Scouting's flagship event is one-of-a-kind. It's a gathering of tens of thousands of Scouts, leaders, and Jamboree Service Team members that showcases everything that is great about the Boy Scouts of America. Over the course of 10 summer days, once every four years, the Boy Scouts of America gathers together. Scouts and Scouters who attend will explore all kinds of adventures—stadium shows, pioneer village, Mount Jack hikes, adventure sports and more—in the heart of one of nature's greatest playgrounds. With 10,000 acres at the Summit to explore, there's no shortage of opportunities to build Scouting memories.
National Jamboree is the best of Scouting rolled into 10 days of friends, fun and adventure! You won't want to miss out, get ready to Face the Challenge and sign up to attend the Jamboree!
IMPORTANT JAMBOREE UPDATES BELOW:
FOR THE 2023 NATIONAL JAMBOREE, Verdugo Hills Council will be partnering with Western Los Angeles County Council to form one contingent to attend this awesome event!
Registration for the 2023 National Jamboree will be handled through WLACC. Their payment schedule is our payment schedule.
PRICING AND REGISTRATION
2023 Jamboree is $3,000 for participants. Jamboree fees include everything listed below. Other out-of-pocket expenses may include (but are not limited to) additional uniforms, patches, and spending money.
Once you click on the registration button, you will be prompted to "choose participant type." Once you begin your registration process, you will also be prompted to indicate if you are a male Scout, female Scout, or approved adult leader.
Payments are due according to WLACC's schedule. Fees owed prior to registering will be due immediately. VHC registrants must contact Amy Taylor with questions.
We highly suggest that regular payments be made, perhaps $300 per month or even quarterly payments. Full payment must be received no later than April 1, 2023 in order for the participant to attend. Below is the payment schedule for the 2023 National Jamboree (although more may be paid in advance).
Payment Schedule:
See the registration page for the payment schedule. If you would like to ask about an alternate payment schedule, please reach out to Jonathan Arnold at Jonathan.Arnold@Scouting.org. If you are in the Verdugo Hills Council please copy Amy Taylor at Amy.Taylor@Scouting.org on all emails regarding registration.
What are the costs? Where does my money go?
Besides the Jamboree experience itself, there are many costs that are incurred in preparation for the event. These costs include (but may not be limited to):
Airfare to and from the East Coast

Luggage fees

Hotel and security

Jamboree training, meetings, and other events

Select Jamboree equipment

Jamboree event fee

Dedicated Scouting professional and support staff to facilitate and assist in a successful Jamboree experience

Bus transportation to all tour locations and to and from Jamboree with dedicated bus drivers

A tour team to organize and facilitate all touring aspects
---
PROPOSED ITINERARY FOR THE JAMBOREE TROOP FROM WLACC & VHC:
Tuesday, July 18
Depart on flight from LAX to Charlotte, NC

Bus to Mount Airy, NC – Stroll of Mount Airy Main Street highlighting Andy Griffith's "Mayberry"

Stay at hotel in Mount Airy, NC
Wednesday, July 19
Day time shops and Andy Griffith Museum

Bus to Summit Bechtel Reserve and the National Jamboree
Friday, July 28
Depart from Summit to Charlotte

Stops for meal, Double Oaks Pool, Charlotte downtown

Depart Charlotte, NC to arrive evening at LAX
(Itinerary subject to change)
---
WHO CAN ATTEND THE 2023 NATIONAL JAMBOREE?
YOUTH PARTICIPANTS
The Jamboree is open to all who are qualified on a first-come, first-served basis. Qualifications to attend the National Jamboree include:
Registered member of a Scout Troop, who has completed the 6th grade, or will be at least 12 years old (but who has not yet reached their 18th birthday by 8/1/2023) and a first class Scout by July 1, 2023
–OR–

Registered member of a Venture Crew who will be at least 14 years old (but who has not yet reached their 21st birthday by 8/1/2023)

Must live and abide by the Scout Oath and Law

Must abide by the Jamboree Code of Conduct
At the time of registration, Scouts will be placed in a Jamboree troop/crew that is closest to where you live, unless that troop/crew is full. If that troop/crew is full the Scout will be placed in the closest available troop/crew. Each Scout will be a member of a patrol within their unit. Every contingent member will be required to participate in and have the following:
Monthly troop or crew meetings

A completed National Jamboree Medical form signed by a licensed physician

Attend the all-contingent gathering

Attend an overnight training encampment

Have all fees paid no later than April 1, 2023
---
WHAT IS NEXT AFTER I HAVE REGISTERED?
Be prepared for an announcement soon about the first meeting of the 2023 WLACC & VHC National Jamboree Troop. That first meeting should be in January with monthly meetings continuing into 2023 as preparation for the event continues! There will also be a "shake-down" camping weekend. The date for this is TBD.
---
ADULT LEADERSHIP
Scout Leader Qualifications: All Jamboree Scoutmasters/Advisors/Skippers and first-, second-, and third-assistant leaders must meet the following requirements.
Possess a current BSA membership with a Scouts BSA Troop, Venturing Crew, Exploring Post or Sea Scout Ship.

Scoutmasters/Advisors/Skippers and first assistant Scoutmasters/Advisors/ Skippers must be at least 21 years old by the first day of the Jamboree.

Second assistant Scoutmasters/Advisors/Skippers must be at least 18 years of age by the first day of the Jamboree.

Third assistant Scoutmasters/Advisors/Skippers must be at least 18 years old by the first day of the Jamboree. Councils may select an adult over 21, if necessary.

Scoutmaster/Advisor/Skipper applicants must be currently serving as a Scoutmaster/Advisor/Skipper.

All Assistant leaders must be currently serving in a unit in an adult leadership position.

Scoutmaster/Advisor/Skipper applicants must have completed leader-specific training.

All Adult leaders must file a Jamboree personal health and medical record.

All adult leaders must be approved by the local council. Interviews will be held in the weeks following the February 22nd submission deadline.

All adult leaders must submit all registration fees per their local council's payment schedule.

BSA Youth Protection Training must be current through the last day of the Jamboree.
---
REGISTRATION
(You must register through National BSA and pay through WLACC)
---
Questions? Visit https://jamboree.scouting.org/ or contact Assistant Scout Executive Amy Taylor.