Outdoor Adventure Awaits! Summer Programs 2022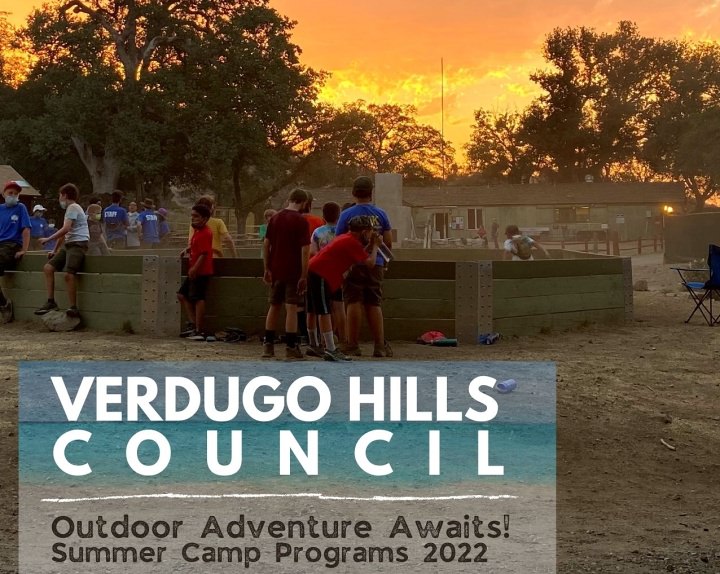 ---
Outdoor Adventure Awaits!
VHC Summer Camps 2022
Dear Parents & Scouts,
Cub Scout Resident Camp at Camp Verdugo Oaks returns this summer with a theme of "Knights of the Roundtable." Cub Scout Day Camp at St. Dominic's Church in Eagle Rock is back and this summer will be all about the "Wild Wild West!" Get your money in soon as these programs will sell out!
If you are looking for a summer of Outdoor Adventure… you will find it here! As you peruse the information, please don't hesitate to reach out with any questions.
Let's make summer 2022 a safe and exciting Scouting Adventure!
Yours in Scouting,
David Potter
VHC Vice President of Program
David.Potter@vhcbsa.org
Peter Basler
VHC Camping & Outdoor Programs Chair
Peter.Basler@vhcbsa.org
P.S. You can sign up provisionally!
The mission of the Boy Scouts of America is to prepare young people to make ethical and moral choices over their lifetimes by instilling in them the values of the Scout Oath and Law.
---
SAFE SCOUT CAMPING
IN A COVID WORLD!
As we all know, living with COVID-19 has become a reality. To that end, the common sense and best practices that have become a staple of these times will continue during our summer camp operations, such as wearing masks properly, washing hands, minimizing indoor activities, etc.
Please know that our Verdugo Hills Council Camp Staff is committed to a safe and fulfilling summer of camping. Your Scout's safety is our number one concern! As LA County Protocols change, our safe camping practices will change as well.
See the Camp Verdugo Oaks COVID-19 Policy at https://www.vhcbsa.org/covactivityprotocols and the VHC 2022 Summer Camps COVID-19 Protocols.
---
Resources
| File Name | Description | |
| --- | --- | --- |
| 3/7/22 UPDATE: VHC Protocols for In-Person Outdoor Scout Meetings and Activities | Updated VHC protocols based on the CDC, State of California, and Los Angeles County Department of Public Health. | Download |
| Annual Health & Medical Record Forms - A, B1, B2 | Fillable form required for some programs. Check respective program webpages to see if this form is required. | Download |
| BSA Health and Medical Record Form, A, B1, B2, C | Fillable form required for some programs. Check respective program webpages to see if this form is required. | Download |
| COVID-19 Screening Form for CVO - Unit | Required form for all programs that meet at Camp Verdugo Oaks. | Download |
| Outdoor Adventure Awaits! VHC Summer Camps 2022 Brochure | MORE VHC Summer Adventure offerings for Cubs, Scouts BSA and Venturers. | Download |
| Summer Camp 2022 Covid-19 Protocols | Please review in addition to the VHC COVID-19 Protocols for In-Person Activities and Meetings. | Download |
| Welcome Packet! Summer Aquatics/Film & Art/Shooting Sports Camps 2022 | Mandatory reading for all Aquatics Camp, Film & Art Camp, and Shooting Sports Camp registrants! This welcome packet includes pertinent information and REQUIRED FORMS. We recommend reviewing before the May 18th Parent Orientation meeting. | Download |
| Welcome Packet! Summer CUB Camps 2022 | Mandatory reading if your Scout is registered for Cub Day Camp and/or Cub Resident Camp. This welcome packet includes pertinent information and required forms. We recommend reviewing before the May 18th Parent Orientation meeting. | Download |