Shooting Sports Camp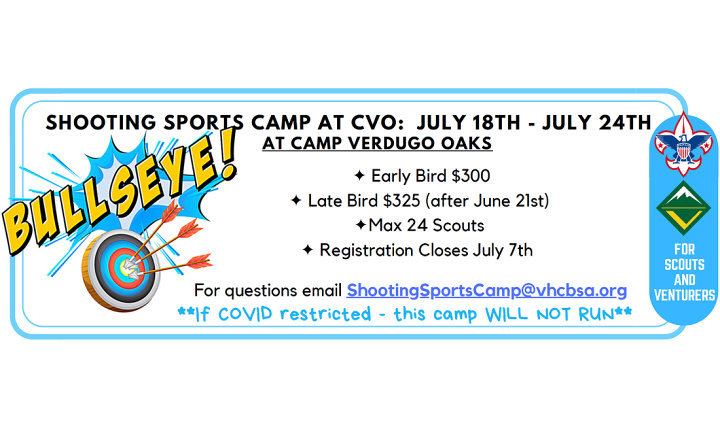 Are you a Scout who loves the Shooting Sports? Just can't get enough of the Boom! Bang! and Twang! at the Range? Come shoot with us!
This is a brand new program at Camp Verdugo Oaks for summer 2021! Be the first to master the all-new action archery course at Camp Verdugo Oaks!
Shooting Sports Camp at Camp Verdugo Oaks is a weeklong overnight camping experience where participants can focus on earning the Archery and Rifle Shooting merit badges, in addition to other shooting sports awards.
Overnight camping takes place at Camp Verdugo Oaks. Film Camp at Camp Verdugo Oaks runs Sunday July 18th through Saturday July 24th with a closing campfire on Friday July 23rd open to all parents and family members. Nights at Camp Verdugo Oaks during Shooting Sports Camp will revolve around campfires, camp-wide games, and general camp fun!
Camp fees are $300 plus a $25 late fee after June 21st. A maximum of 24 Scouts can participate. Registration closes after July 7th.
If this camp is not able to continue because of COVID-19 restrictions, there will be no replacement program and fees will be refunded.
For questions or to volunteer as staff, you should email ShootingSportsCamp@vhcbsa.org.