Scouts in the News
Samantha H from Troop 211 was recognized for her achievement of being in the Inagural Class of Female Eagle Scouts in the Burbank Leader.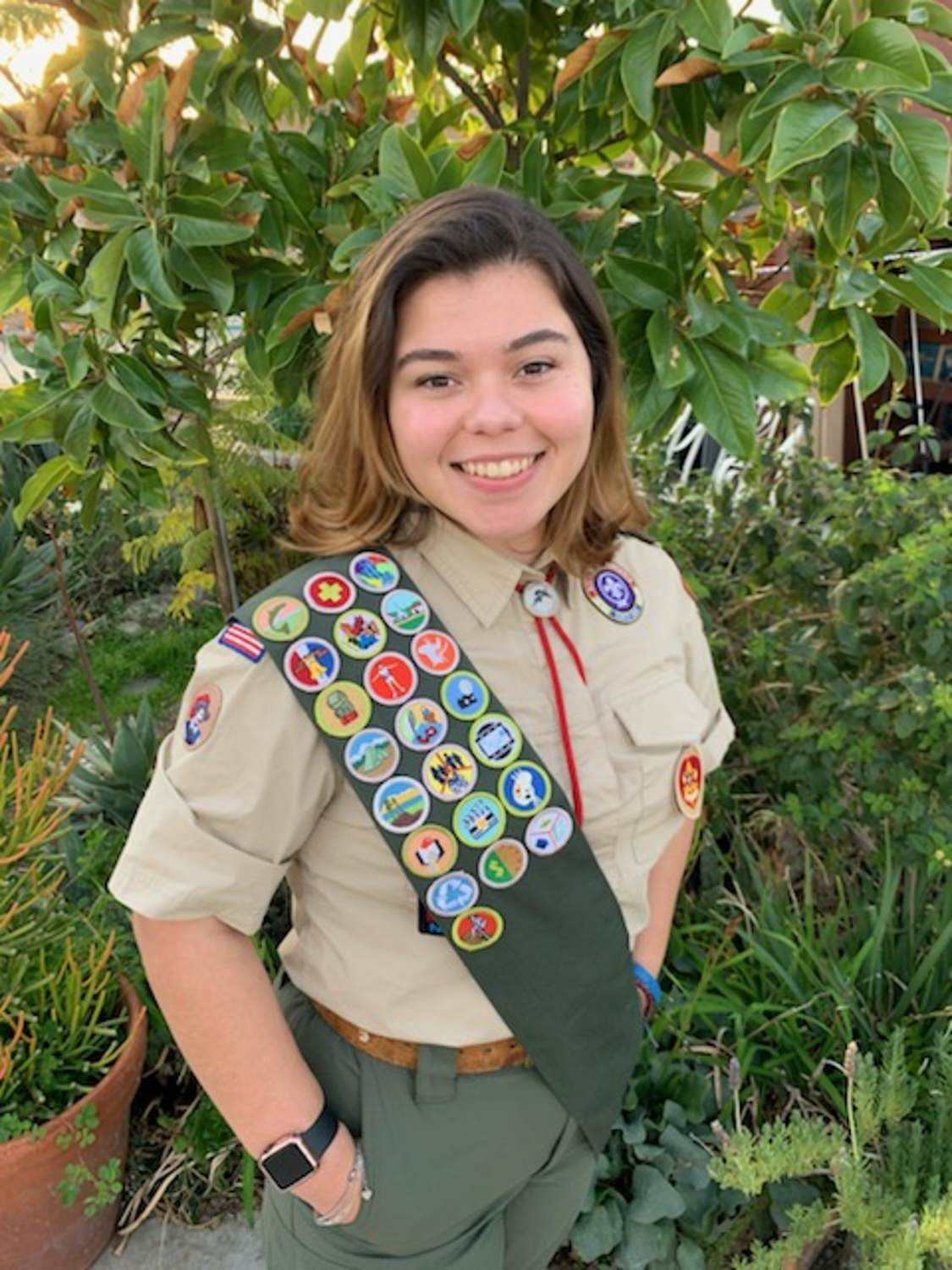 Samantha Hoxsie, a graduate of John Burroughs High School, is making history as she joins the inaugural class of female Eagle Scouts. The rank of Eagie Scout is a prestigious achievement that has been attained by some of the country's most noteworthy figures.
"Earning the rank of Eagle Scout takes hard work and perseverance, and we are honored to recognize Samantha for this significant accomplishment," said Andrew Sisolak, interim Scout executive. "Along the journey to Eagle Scout, young people gain new skills, learn to overcome obstacles and demonstrate leadership among their peers and in their communities, these benefits are invaluable for everyone, and we are thrilled that they are now available to even more youth."
Young women have been part of Scouting for decades in co-ed programs offered by the Boy Scouts of America, including Sea Scouts, Venturing, Exploring and STEM Scouts. The BSA expanded that legacy further in recent years by welcoming girls into Cub Scouts and then into Scouts BSA last February. Scouts BSA is the program for youth ages 11-17 previously known as Boy Scouts. Since then, tens of thousands of young women from across the country have joined the organization's most iconic program, earning the rank of Eagle Scout.
Samantha's Eagle project was to redesign and repaint the 50-state mural for Bret Harte Elementary School.
Eagle Scout is the Scouts BSA program, highest rank, which only 6% of Scouts achieve on average. To earn it, an individual must take on leadership roles within their troop and their community; earn a minimum of 21 merit badges that cover a broad range of topics, including first aid and safety, civics, business and the environment; and they must research, organize and complete a large community service project.
In addition to gaining skills that last a lifetime, individuals who earn the esteemed Eagle Scout rank can reference it for academic, vocational and military recognition, including scholarships and advanced enlistment grade.
All four of our Verdugo Hills Council members of the Inagural Class of Female Eagle Scout: Adele K, Darcy K, and Haneen S from Troop 118G and Samantha H from Troop 211 were all recognized in the Glendale Newspress.
Four local teens are making history as they join the inaugural class of female Eagle Scouts. The rank of Eagle Scout is a prestigious achievement that has been attained by some of the country's most noteworthy figures. And now, Adele Kelley, Darcy Kelley, Haneen Shehata, and Samantha Hoxsie are among thousands of young women who will make up this distinguished group.
Troop 209 was recognized by multiple news publishers for their service project creating face masks for first responders.
"A Scout is helpful" is one of the twelve points of the Scout Law. With a shortage of protective gear for front line health workers, first responders, and at-risk members of the community, Scout Troop 209 saw an opportunity to be helpful. From the idea of one parent, a group of Scout and parent volunteers began meeting via Zoom and figuring out sewing patterns, acquiring materials, and distributing production assignments for the group.
Read more on the Burbank Leader site.
Some of the basic tenets of Scouts BSA are found in the Scout Law. "A scout is helpful, kind, thrifty, clean, brave…," and the list continues. So, when the COVID-19 pandemic began putting a strain on our community's healthcare system, the scouts in Troop 209 were ready to step up.