Scouts in the News
Fox Melo, of Burbank, CA has been awarded a $5,000 scholarship by the National Catholic Committee on Scouting (NCCS) through the Emmett J. Doerr Memorial Scout Scholarship Fund. He is a member of St. Finbar Catholic Church in the Archdiocese of Los Angeles. When asked why volunteering is important to him, he responded, "Volunteering is part of my commitment to living out my faith and my oath as a Scout. I am committed to continuing my life of service to causes large and small, following God's commandment to "love one another" and the Scout oath to "help other people at all times." Fox has earned all four religious emblems offered by the NCCS.Read more about Fox... http://www.nccs-bsa.org/.../Press_Release_2021_1st_Fox...
---
Samantha Hoxsie, an Eagle Scout from Troop 211 in Burbank CA, standing at the Alex Theatre. Samantha is speaking to the young Scouts about her merit badges and her journey in obtaining the rank of Eagle Scout, under the marquee which holds her name along with the other three Inaugural female Eagle Scouts from the Verdugo Hills Council. Samantha believes in giving back to her community and advancing the Scouting movement to reach other young individuals. Samantha will continue her Scouting journey by mentoring the next generation of Scouts at our National Youth Leadership Training (NYLT) course later this June. Scouting has always been a family activity for Samantha. She attended all her brothers' activities from hikes, camping, and the Council's Rocket Academy where at young age she would shoot her own rockets. She comes from family of Eagle Scouts, so it was natural for her to join the Scouts BSA in 2019, when girls could join and earn the rank of Eagle. Everything Samantha has learned through Scouting and her journey towards Eagle Scout has prepared her for anything Samantha decides to accomplish next. She currently aspires to become a firefighter in her community.
---
Richie Collins is a Life Scout from Troop 219 and has always wanted to help the Burbank Animal Shelter. He initially thought of rehabbing some parts of the shelter or creating welcoming boxes for new owners who adopted a dog or a cat. COVID-19 presented a more urgent need to the Animal Shelter and the surrounding community of Burbank. Richie answered to the need of informing and passing out informational packets to over a 1,000 individuals and businesses about the education of co-existing with coyotes. Read more about Richie and his Eagle Scout project here:https://myburbank.com/eagle-scout-project-educates-public-on-coyote-awareness/
---
Congratulation to the following Scouts who ean their cathoilic religious emblems. They will recieve their awards on May 16, 20210 from the Caholic Committee on Scouting.
Pope Pius XII award
Alex Vizcaino, Crew 220
Miguel Vizcaino, Troop 219
Luke Carnegie, Troop 219
Anthony Novoa, Troop 303
Noah Segura, Troop 199
Phillippe Shammaa, Troop 199
Ad Altare Dei award
Andrew Vizcaino, Troop 219
James Simmons, Troop 317
Anthony Kramer, Troop 209
Felix LaPointe, Troop 317
Hagen Close, Troop 317
Zachary Cataleta, Troop 199
Marcus Segura, Troop 199
Joseph Crosthwait, Troop 209
Dominic Esquival, Troop 319
Alex Vizcaino, Miguel Vizcaino, Luke Carnegie, Anthony Novoa, and Noah Segura will also be recognized with the Chi Rho award. This award signifies that they have earned all four of the Catholic religious emblems (Light of Christ, Parvuli Dei, Ad Altare Dei, and Pope Pius XII).
This was an especially challenging year for our religious emblems. Classes were virtual. Service projects were more of a challenge because of the pandemic. And I can't forget the parents, who helped out by being a second adult in our virtual classrooms.
Our Presentation Mass will take place on Sunday, May 16, at 1 p.m. at St. Maximilian Kolbe Church in Westlake Village. Our Scouts will be recognized virtually. The link for the Mass is
---
Stories of Inspiration of Service to Others.
Eagle Scouts do amazing things …
The National Eagle Scout Association established the Glenn A. and Melinda W. Adams national Eagle Scout service project of the year award to recognize valuable service of an exceptional nature by an Eagle Scout candidate to a religious institution, a school, community, or other entity through completion of an Eagle Scout project. The Verdugo Hills Council recipient, Patrick Venezia, is from Troop 319 in La Crescenta and he is one of 79 Eagle Scouts from the 2020 class. To learn more about his project, please click this CV weekly link or you can register for our council recognition dinner on May 20th at 7 pm to listen to Patrick speaking of his goals and objective of his project.
---
Samantha H from Troop 211 was recognized for her achievement of being in the Inagural Class of Female Eagle Scouts in the Burbank Leader.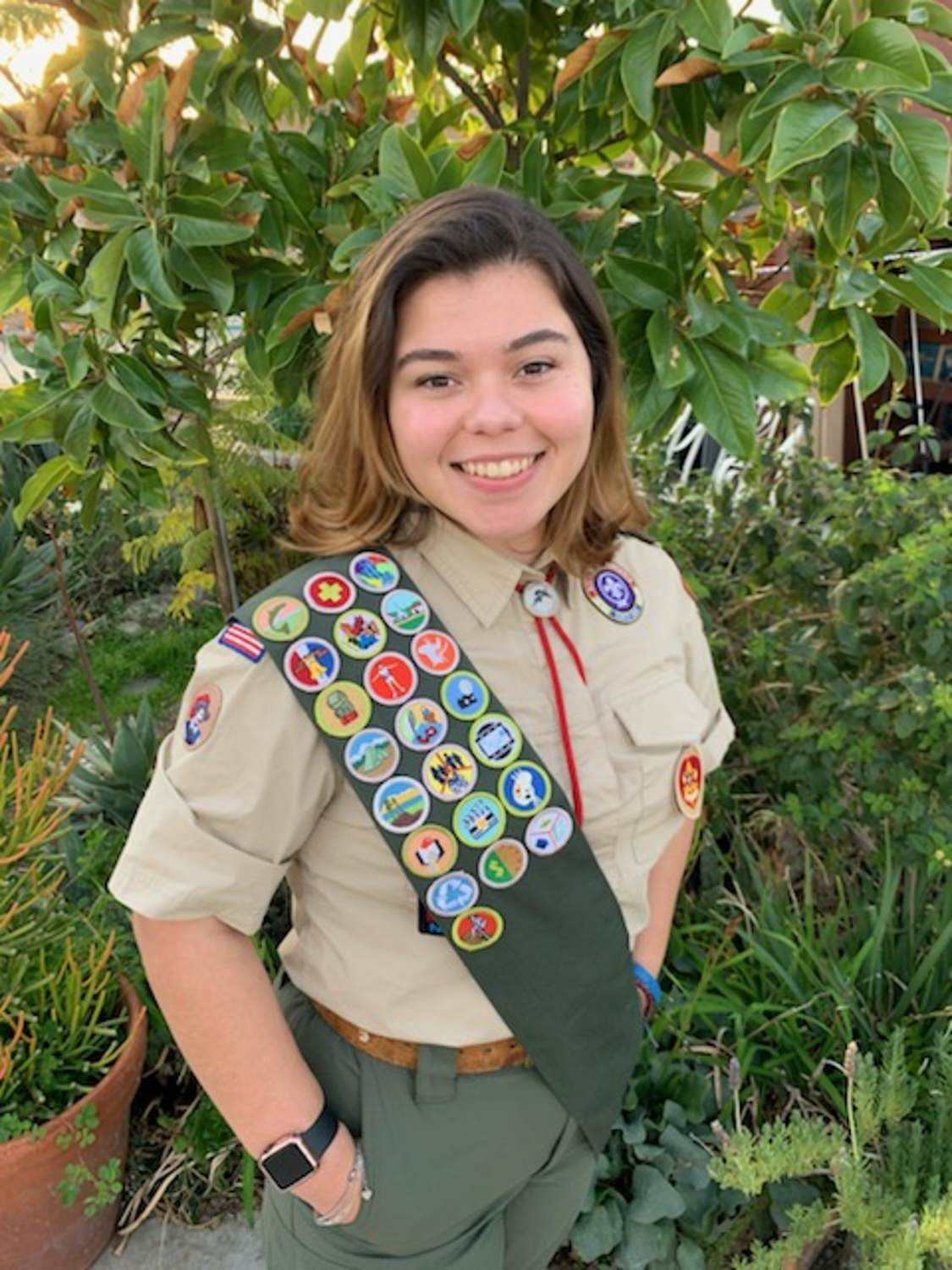 Samantha Hoxsie, a graduate of John Burroughs High School, is making history as she joins the inaugural class of female Eagle Scouts. The rank of Eagie Scout is a prestigious achievement that has been attained by some of the country's most noteworthy figures.
"Earning the rank of Eagle Scout takes hard work and perseverance, and we are honored to recognize Samantha for this significant accomplishment," said Andrew Sisolak, interim Scout executive. "Along the journey to Eagle Scout, young people gain new skills, learn to overcome obstacles and demonstrate leadership among their peers and in their communities, these benefits are invaluable for everyone, and we are thrilled that they are now available to even more youth."
Young women have been part of Scouting for decades in co-ed programs offered by the Boy Scouts of America, including Sea Scouts, Venturing, Exploring and STEM Scouts. The BSA expanded that legacy further in recent years by welcoming girls into Cub Scouts and then into Scouts BSA last February. Scouts BSA is the program for youth ages 11-17 previously known as Boy Scouts. Since then, tens of thousands of young women from across the country have joined the organization's most iconic program, earning the rank of Eagle Scout.
Samantha's Eagle project was to redesign and repaint the 50-state mural for Bret Harte Elementary School.
Eagle Scout is the Scouts BSA program, highest rank, which only 6% of Scouts achieve on average. To earn it, an individual must take on leadership roles within their troop and their community; earn a minimum of 21 merit badges that cover a broad range of topics, including first aid and safety, civics, business and the environment; and they must research, organize and complete a large community service project.
In addition to gaining skills that last a lifetime, individuals who earn the esteemed Eagle Scout rank can reference it for academic, vocational and military recognition, including scholarships and advanced enlistment grade.
---
All four of our Verdugo Hills Council members of the Inagural Class of Female Eagle Scout: Adele K, Darcy K, and Haneen S from Troop 118G and Samantha H from Troop 211 were all recognized in the Glendale Newspress.
Four local teens are making history as they join the inaugural class of female Eagle Scouts. The rank of Eagle Scout is a prestigious achievement that has been attained by some of the country's most noteworthy figures. And now, Adele Kelley, Darcy Kelley, Haneen Shehata, and Samantha Hoxsie are among thousands of young women who will make up this distinguished group.
Read more on the Glendale Newspress site.
---
Troop 209 was recognized by multiple news publishers for their service project creating face masks for first responders.
"A Scout is helpful" is one of the twelve points of the Scout Law. With a shortage of protective gear for front line health workers, first responders, and at-risk members of the community, Scout Troop 209 saw an opportunity to be helpful. From the idea of one parent, a group of Scout and parent volunteers began meeting via Zoom and figuring out sewing patterns, acquiring materials, and distributing production assignments for the group.
Read more on the Burbank Leader site.
Some of the basic tenets of Scouts BSA are found in the Scout Law. "A scout is helpful, kind, thrifty, clean, brave…," and the list continues. So, when the COVID-19 pandemic began putting a strain on our community's healthcare system, the scouts in Troop 209 were ready to step up.