2021 Cubs on the Hunt | Scouts on the Hunt
Date:
Feb 20, 2021 to Feb 27, 2021
Location:
Council Service Area
1325 Grandview Ave
Glendale, CA 91201

Are you looking for a really fun week-long event to do with a team of 2-5 Scouting friends?
Girl Troop 288 of La Crescenta, in conjunction with Verdugo Hills Council, is hosting the first ever Cubs on the Hunt and Scouts on the Hunt 7 Day Photo Scavenger Hunt.
Do you have a friend that hasn't joined in Cub Scouts or Scouts BSA yet but would really like to join you on this scavenger hunt? Ask them to be part of the fun and have them experience why you enjoy Scouting. If they join your team, your team gets a lot of extra points on the leader board which will help your team move up in team standings.
During the week of February 20 – February 26, your team along with your one adult will have a list of at least 90 different fun activities to coordinate with your teammates. These tasks include rank advancements, outdoor activities, artistic activities, and just plain fun stuff. You and your teammates will take pictures or videos documenting the completion of these tasks. Dividing the tasks will ensure all your teammates will be able to participate. A few examples of the Cub Scout and Scouts BSA tasks are: get a picture catching a Pokémon Go, identify using the Seek App10 different native plants and arrange them in a collage and take a photo, take a picture of you and your family jumping rope, take a picture of you building a fort made out of pillows and blankets in your living room, take a picture of you jumping into a pool while wearing your Scout uniform, and make a video of you or your team doing a skit, telling jokes, or singing a song for the final campfire program. We will end this fun event with a campfire and slideshow featuring the teams! Did we mention that the top three teams will be announced during campfire?
Once your team registers you will get all the information emailed to the adult team leader for all to successfully participate. The adult does NOT need to be a registered leader, just a responsible adult.
If you have any questions, email us at Chrissandra.Sparks@vhcbsa.org.
You don't want to miss out on this event! Here is the link to sign up! https://forms.gle/fMdnw1wMZM7B8zjX8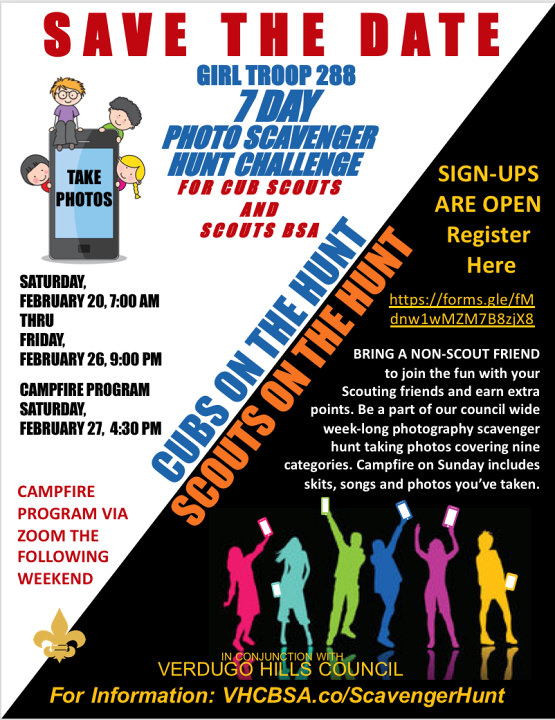 | Position | Name | Telephone | |
| --- | --- | --- | --- |
| | Chrissandra Sparks | | Email |