Ropes Course for Adult Scout Leaders, 2/10/24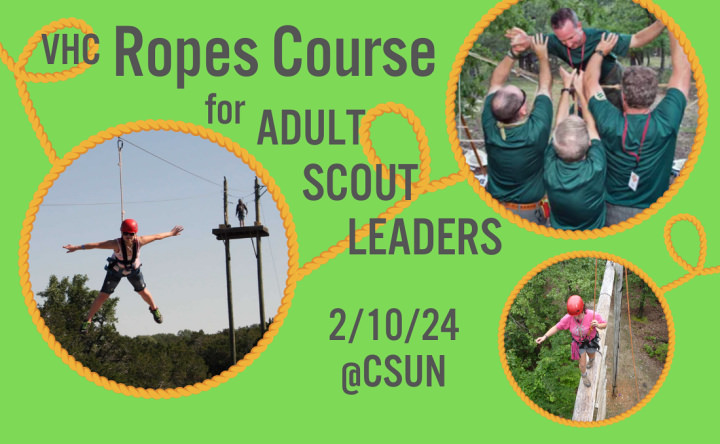 There are always challenges that arise in life!
As an adult leader in the Boy Scouts of America, your job is to help provide young people with the tools they need to overcome challenges and to thrive.
ROPES COURSE
for ADULT SCOUT LEADERS
At Cal State University Northridge
"Accept The Challenge!"
Saturday, February 10th
9am-3pm
As a Scout Leader participating in the ROPES COURSE at CSUN you will increase your knowledge of group initiative games, team building exercises, problem solving scenarios, and physical and mental challenges for you and your patrol to overcome!
How? By actively participating in the ULTIMATE CHALLENGE COURSE (aka ROPES) as a participant, just like your Scouts are able to!
The CSUN high ropes challenge course offers unique experiences designed to foster group and individual development. The course instills participants with confidence and enthusiasm, and provides lessons critical to personal and professional success.
Participants in this one-day course will be moving, running and climbing! Bring proper footwear, sun protection and a water bottle. Some activities involve a group challenge, while others develop individual skills and agility.
Trained Course Instructors are provided by CSUN. Look for a VHC staff member on site for check-in.
Adult Scout Leader ROPES Course Fee: $70
Course runs 9am – 3pm.
Please bring a sack lunch AND the forms below, completed in full!
** Space is Limited to 20 Scout Leaders **
Registration closes after February 5th
Questions? Email us at: RopesAcademy@vhcbsa.org