Ropes Academy, 7/3, 7/5-7/7 (no meeting July 4th)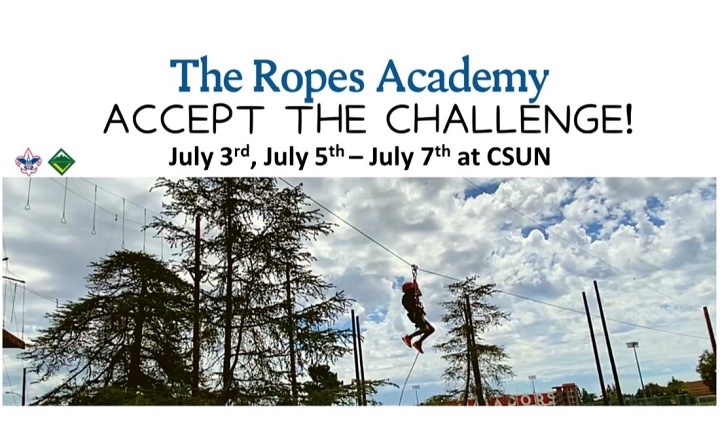 DATES HAVE CHANGED TO:
7/3, 7/5-7/7.
July 3rd, July 5th-7th (day-only program)
9:00 a.m. - 4:00 p.m. (early drop off at 8:00 a.m.)
Cal State University, Northridge
Are you a new Patrol Leader, Senior Patrol Leader or Venture Crew President?
Want to take your leadership skills to the next level?
How about challenging yourself physically and mentally?
Then you need to take part in the ultimate climbing and outdoor obstacle course known as Ropes Academy at Cal State University, Northridge!
Ropes Academy consists of group-initiative games, trust events, and leadership-enabling elements. Participants will be moving, running and climbing on this course! Bring proper footwear, sun protection and a water bottle. Some activities involve a group challenge, while others develop individual skills and agility. Participants will improve their skills to be able to devise solutions to a variety of problems to be used in Scouting and beyond. Ropes Academy will take place for four days on the CSUN Campus. There is NO overnight camping component to this course.
Activities
Participants will be moving, running and climbing in this course - CSUN has a brand-new ropes course and participants will be in the CVO and CSUN swimming pools.
Some activities involve group challenges, while others develop individual skills and agility.
Camp Fees
Early Bird Fee is $275, includes camp t-shirt and patch.
After June 9th, the Registration Fee is $300.
Space is limited to 30 Scouts and is open to Scouts BSA and Venturers.
Schedule
Early arrival begins at 8:00am each day.

Program starts at 9:00am daily on the CSUN Campus.

Daily pick up time at CSUN is 4:00pm.
Forms and Camp Guide
VHC Electronics Policy
Electronic devices such as phones, tablets, walkie-talkies, handheld gaming devices, and other electronic media are NOT allowed at camp. Camp Staff are provided your contact information as well as emergency contact information in case you must be alerted for any reason.
Parent Orientation Night for IN-PERSON Summer Camps is June 7th.
For questions, email RopesAcademy@vhcbsa.org.
---
A Safe & Exciting Summer Adventure
As we all know, living with COVID has become reality. Please know that the Camp Staff at Verdugo Hills Council is committed to a safe and fulfilling summer of camping. Your Scout's safety is our number one concern! As LA County Protocols are changed or amended, our safe camping practices will change as well. For the most up-to-date Verdugo Hills Council Policies regarding summer camping, please visit it here.
---
Peanut Policy for Verdugo Hills Council Camps
Sensitivity to peanuts and food made with peanuts is an increasing risk to Scouts with such an allergy. At Verdugo Hills Council, we ask that no peanuts be brought into our camps.
Foods sent in for snack or lunch at our Cub Day Camp should be carefully checked to make sure they are peanut free. Any food or snacks sent via Camp Mail to our Resident Camp Programs should also be carefully checked as well!
This means that all food products can not contain peanuts and can not have the following warnings: "may contain…", "processed in a facility…", and "manufactured on shared equipment…"
Scout families can help ensure that our camps stay peanut free by reading packaging labels and by reminding children not to share food with other children at camp.
Thank you for your help in making summer camping in Verdugo Hills Council a healthy and rewarding experience for our Scouts!
- Camping & Outdoor Program Committee
---
Registration closes at 11:59pm, June 30th or when capacity is reached.
During registration, check that your Scout's rank is current as of JULY 3RD.
UPDATE t-shirt size during registration.
| File Name | Description | |
| --- | --- | --- |
| Annual Health and Medical Record Form, A, B1, B2, C | Fillable form required for some programs. Check respective program webpages to see if this form is required. | Download |
| CSUN Ropes Academy 2023 - Waiver | REQUIRED for all Ropes Academy 2023 participants. | Download |
| Letter to Parents - Ropes Academy 2023 | | Download |
| Ropes Academy Camp Guide 2023 | | Download |
| The Adventure Begins...VHC Summer Camps 2023 Brochure | Full VHC Summer 2023 offerings for Cubs, Scouts BSA and Venturers. | Download |