Rocket Academy, 4/22-4/24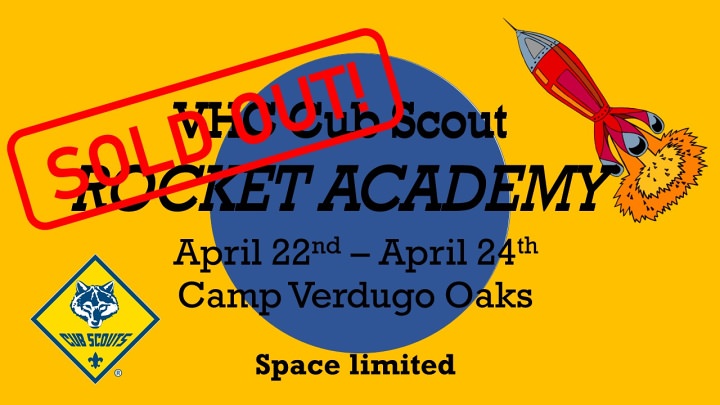 All family members are welcome to join us for this weekend of fun and Scouting!
Never been to camp? This is the perfect way to start.
...5…4...3...2…1 - - - BLAST OFF TO ROCKET ACADEMY!
All you need is your tent, sleeping bag, and cup. All meals are provided, including Saturday Night Cracker Barrel.
Who:
All Cub Scouts and their families
All children must attend with a parent or guardian. Please see VHC COVID-19 protocols regarding tent camping.
What:
Make your own rocket and fire it off! Enjoy camping, BB and archery ranges, swimming pool, crafting a rocket stand, and the Saturday night campfire*
When:
April 22nd, 23rd and 24th
Where:
CAMP VERDUGO OAKS
*Bring your favorite Scout jokes and skits to perform for the whole camp!
Children under 2 years of age do not need to register. Please bring all infant supplies.
---
VHC COVID-19 Protocols for In-Person Activities and Meetings, updated 3/7/22
Please review the update here. The VHC COVID-19 Protocols for In-Person Activities and Meetings is subject to change at any time, in accordance with the CDC, State of California and Los Angeles County Department of Public Health requirements. Please bring your completed COVID-19 Screening Form for CVO with you!
---
Space is limited.
Fees are non-refundable and non-transferable.
---
Registration closes after Saturday, April 16th or when capacity is reached. Register early!
Reach Camping & Activities Registrar Wendy Tateishi at wendy.tateishi@scouting.org with your registration questions.