Fall Recruitment 2022!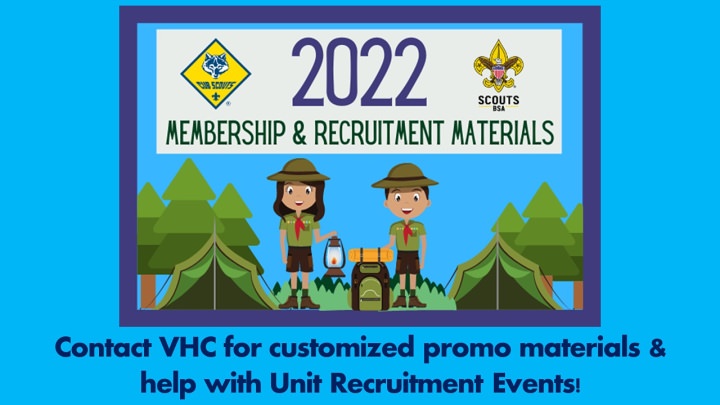 Contact District Executive Brandon Mejia for recruitment strategies, schedules, and details on resources listed to the right of this page.
Brandon can also help you with fall recruitment resources for your unit, including yard signs, flyers, Peachjar access, geo-fencing, small free giveaways, postcards/candy, QR CODES, and more!
Know of a possible recruitment event opportunity? Contact Field Staff so we can grow stronger Scouting in our community!
---
Fall Recruitment Contest
8/1/2022 to 11/31/2022
For every 5 Scouts recruited (New or Returning*), a raffle ticket will be placed in your unit's name to be drawn in December for a FREE WEEKEND AT CAMP VERDUGO OAKS FOR YOUR ENTIRE UNIT! Also, share your next recruitment event with field staff to receive a free stomp rocket kit. Contact field staff for more details.
*Returning Scouts are Scouts registered from 2021 or prior.
Current memberships do not qualify.
---
CUB SCOUT PROGRAM UPDATE:
VHC is participating in a nationwide Family Den Pilot Program allowing co-ed dens ONLY UP TO WEBELOS. AOL dens will continue as separate dens. Please contact
Amy Taylor
for information on registering for this pilot program!
---
Help VHC meet its 2022 membership goal of
307 new Scouts this fall.
The below units have shown unit growth this year.
Thank You!
Pack 131
Pack 201
Pack 212
Pack 225
Pack 310
Pack 360
Troop 118G
Troop 188
Troop 210B
Troop 201G
Troop 288G
Troop 306G
Troop 315
Troop 319
Post 238
---
More resources for your membership campaign:
---