Project C.O.P.E. 2022, 6/20-6/23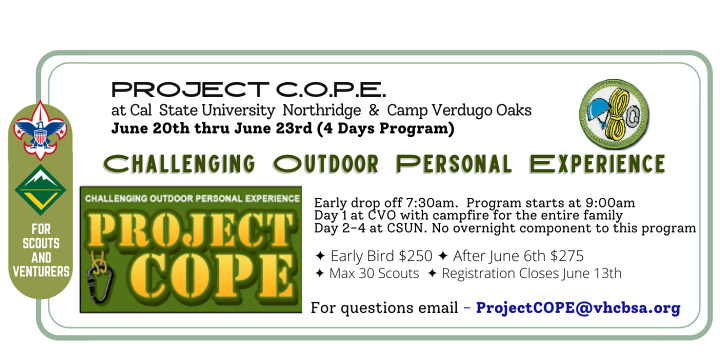 PROJECT C.O.P.E.
Challenging Outdoor Personal Experience
June 20th - June 23rd (day-only program)
9:00 a.m. - 5:00 p.m. (early drop off at 7:30 a.m.)
Camp Verdugo Oaks & Cal State University Northridge
Are you a new Patrol Leader, Senior Patrol Leader or Venture Crew President?
Want to take your leadership skills to the next level?
How about challenging yourself physically and mentally?
C.O.P.E. is an acronym for Challenging Outdoor Personal Experience. Project C.O.P.E. takes place over four days (day-only, no overnight component). The first day is at Camp Verdugo Oaks, concluding with a campfire for the whole family. The remaining three days will be at Cal State University, Northridge. Lunch will be provided. Participants must attend all 4 days and bring proper footwear, sun protection and a water bottle.
This experience consists of group-initiative games, trust events, and leadership-enabling elements. Participants will improve their skills to be able to devise solutions to a variety of problems to be used in Scouting and beyond. To complete the C.O.P.E. program, you need to be physically fit. However, by varying the goals or adjusting limitations, most C.O.P.E. activities and events can be customized to challenge each team and each participant at an appropriate level.
Activities
Participants will be moving, running and climbing in this course - CSUN has a brand-new ropes course and participants will be in the CVO and CSUN swimming pools.
Some activities involve group challenges, while others develop individual skills and agility.
Camp Fees
Early Bird Fee is $250, includes camp t-shirt and patch.
After June 6th, the Registration Fee is $275.
Space is limited to 30 Scouts and is open to Scouts BSA and Venturers.
Forms and Welcome Packet
All participants (youth and adults) must provide BSA Health and Medical Records forms, portions A, B, and C.
The Project C.O.P.E. Camp Welcome Packet and other required forms will be available soon!
VHC Electronics Policy
Electronic devices such as phones, tablets, walkie-talkies, handheld gaming devices, and other electronic media are NOT allowed at camp. Camp Staff are provided your contact information as well as emergency contact information in case you must be alerted for any reason.
For questions, email ProjectCOPE@vhcbsa.org.
Parent Orientation Night for ALL Summer Camps, 7:00 PM. Click this button for more information.
---
Our Commitment to Health and Safety
VHC COVID-19 In-Person Activities and Meetings
As we all know, living with COVID-19 has become a reality. To that end, the common sense and best practices that have become a staple of these times will continue during our summer camp operations, such as wearing masks properly, washing hands, minimizing indoor activities, etc.
Please know that our Verdugo Hills Council Camp Staff is committed to a safe and fulfilling summer of camping. Your Scout's safety is our number one concern! As LA County Protocols change, our safe camping practices will change as well.
See the Camp Verdugo Oaks COVID-19 Policy at https://www.vhcbsa.org/covactivityprotocols and the VHC 2022 Summer Camps COVID-19 Protocols.
---
Registration closes June 13th or when capacity is reached.
| File Name | Description | |
| --- | --- | --- |
| 3/7/22 UPDATE: VHC Protocols for In-Person Outdoor Scout Meetings and Activities | Updated VHC protocols based on the CDC, State of California, and Los Angeles County Department of Public Health. | Download |
| Annual Health & Medical Record Forms - A, B1, B2 | Fillable form required for some programs. Check respective program webpages to see if this form is required. | Download |
| COVID-19 Screening Form, CVO | COVID-19 pre-camp checklist to aide in determining clearance for participation at VHC events and training sessions at CVO. | Download |
| Outdoor Adventure Awaits! VHC Summer Camps 2022 Brochure | MORE VHC Summer Adventure offerings for Cubs, Scouts BSA and Venturers. | Download |
| Project C.O.P.E. 2022 Flyer | Share this flyer with your troop and crew! | Download |
| Summer Camp 2022 Covid-19 Protocols | Please review in addition to the VHC COVID-19 Protocols for In-Person Activities and Meetings. | Download |