The Orion Project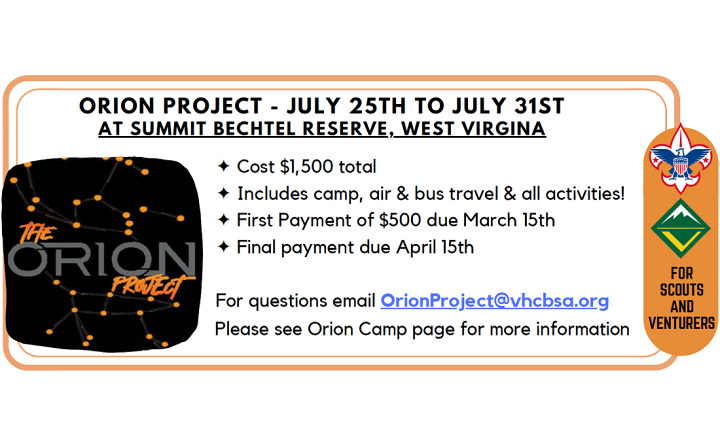 Did you know that Verdugo Hills Council has a contingent going to visit the Summit Bechtel Reserve in July 2021? Summit Bechtel is located in Fayette and Raleigh counties, near Beckley, West Virginia, and is one of four premiere facilities managed by the National Council of the Boy Scouts of America.
The Orion Project is a 7-day/6-night experience! Orion will include opportunities for BMX, skateboarding, mountain biking, zip lines, canopy tours, challenge courses, climbing, shooting sports, whitewater rafting, fellowship with Scouts from across the nation and an opportunity to help plan the next BSA Jamboree. Orion will be open to all Scouts BSA and Venturing youth.
Fees total $1,500 per Scout, which include camp, air and bus travel, and all activities. An initial payment of $500 is due March 15th. Final payment is due April 15th. There is limited space available, but if you are interested and space has been filled, you can join the waitlist with a $250 deposit.
If this trip is cancelled due to COVID-19 restrictions, all payments will be refunded.
Want to join the contingent as an adult leader or have questions, email OrionProject@vhcbsa.org.