Cub Scout Resident Camp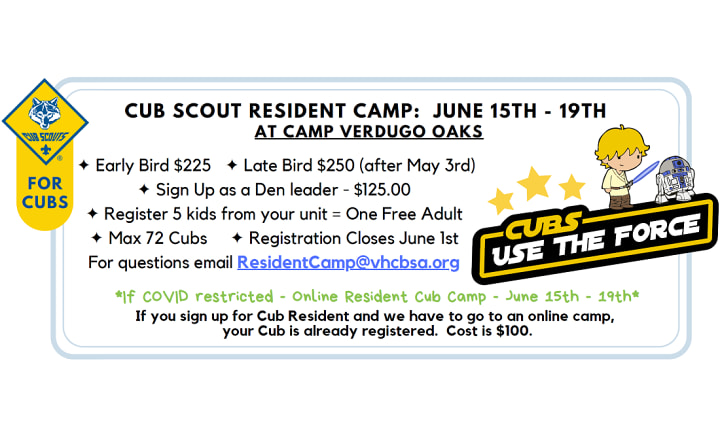 Resident Camp is a 5 Day/4 Night Sleep Away Camp appropriate for Cub Scouts and Webelos. Tiger Cubs are welcome with their Adult Partner. Lions are unable to attend Resident Camp.
Cub Camping helps prepare Cubs for advancement into Scouts BSA, promotes independence and helps kids work in social groups.
We provide all healthy meals and program supplies. Just bring a tent, sleeping gear and personal items.
Fun activities include: BB and Archery shooting, Aquatics / Swimming, Movie Night, Scout Skills & Crafts, Hiking, Campfire Programs, Great Food and Evening Programs.
Camp Fees are $225, includes camp t-shirt and patch, plus a $25 Late Registration Fee after May 3rd. Den leader Fees are $125. One adult is free for each 5 Cub Scouts registered together. Space is limited to 72 campers.
If this camp is not possible due to COVID restrictions, we will run online resident camp from tuesday, June 15th to saturday, June 19th. If you sign up for Cub Resident and we have to go to an online camp, your Cub Scout will be automatically registered. Online camp cost would be $100.
For questions or to volunteer, email ResidentCamp@vhcbsa.org.