Camp Silver Fir, Temporarily Closed - Updates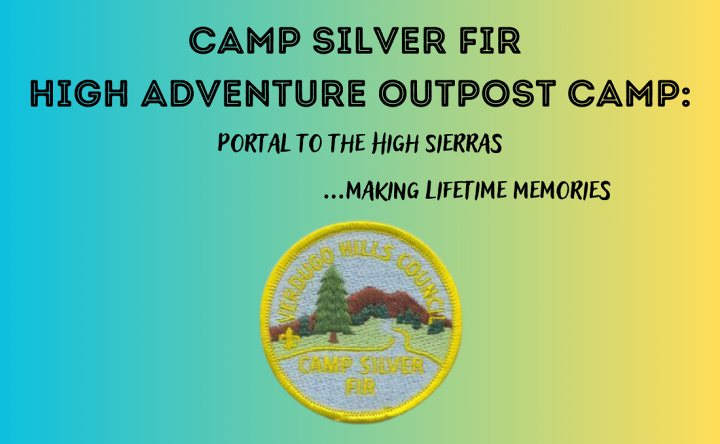 ---
Camp Silver Fir News, November 2023
It's Finally Happening!
After more than 3 years, weather permitting, the bridge delivery and installation is scheduled for November 30th! We will be discussing this at tomorrow night's meeting, November 14, 2023 at 7:00PM. See you then.
Debbie Wagner, Chair
Camp Silver Fir Committee
Meeting: Second Tuesday of the month.
---
The Camp Silver Fir Committee is dedicated to returning the camp to Scouts.
See Camp Silver Fir before the Creek Fire:
---
About the Camp:
Camp Silver Fir is a high adventure outpost camp that has been operated since the 1950's by the Verdugo Hills Council, Boy Scouts of America with a Special Use Permit from the US Forest Service. The camp is in the Western Sierra Nevada Mountains (Sierra National Forest) east of Fresno, 285 miles north of Glendale off highway 168, less than 2 miles past Lakeshore, CA. The road to camp goes off the highway through the Upper Line Creek tract and is less than half mile from Huntington Lake. At an elevation of 7,200 feet, the high Sierra mountain setting with its beautiful vistas, lakes, streams, and magnificent trails, provides an excellent venue for high adventure.
As a high adventure outpost camp, Camp Silver Fir provides unique opportunities for participants in the Scouting program, and their families to experience the high Sierra wilderness terrain of the Sierra National Forest, using the Philmont model on the trail as well as family camping.
---
Mission and Vision Statements:
Mission: Our mission is to provide and maintain a quality facility that will allow access for Scouts and others to enjoy the unique alpine experiences available in the Sierra National Forest, and to develop informed, responsible, environmental stewards who will care for, protect, and preserve our outdoor spaces for future generations.

Vision: To support the development of outdoor skills with a focus on conservation and the environment. To advance the mission of Scouting and the Outdoor Code of Ethics through shared life changing experiences and camaraderie.