Wilderness First Aid Training Sat 5/20 & Sun 5/21 (5/13 CPR, required)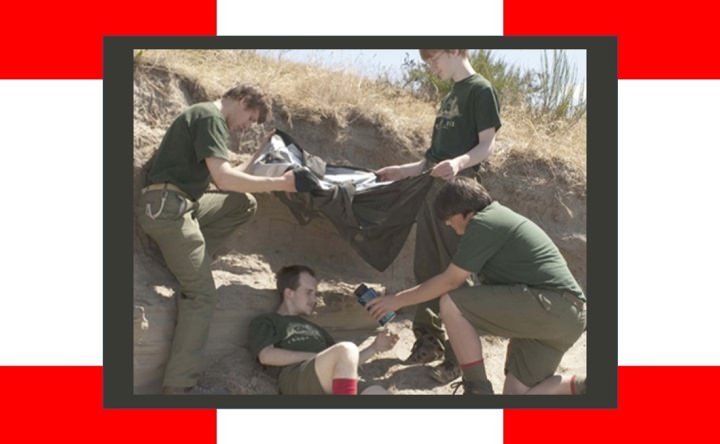 Sign up in time for summer High Adventure Treks!
---
The Verdugo Hills Council offers Wilderness First Aid Training this spring.
Cost is $150 and space is limited. Registrants must attend ALL THREE sessions to be certified:
Day 1: May 13, 2023 – CPR and Basic Life Support (you must attend this class for the course)
Your choice of 2 Sessions – 8 AM to 12:30 PM or 1 PM to 5:30 PM (Choose one half-day session; 6 spaces in each class)

Montrose American Legion Hall,

4011 La Crescenta Ave., Glendale CA. 91214
Days 2 & 3: May 20-21, 2023 – Wilderness First Aid (WFA) Instruction and Practical Training. NON-OVERNIGHT
8 AM– 5 PM each day (both days are required). Bring your sack lunch.
Camp Verdugo Oaks, 38001 Golden State Hwy., Castaic, CA 91384
Cost: $150 — Includes all classroom materials and a CPR Pocket Mask
Open to registered Scouters, 18 years and older
---
About the course.
Prepare for the unexpected in this hands-on introduction to a wilderness medicine program taught by experienced professionals. This training is geared towards adult Scout leaders preparing for a Scout High Adventure Base or a Scout wilderness activity. All four of the BSA high-adventure bases require at least one person per trek (two per trek at Philmont Scout Ranch) to be current in WFA through one of the BSA's approved providers.
During this 3-day course, you will learn how to provide effective first aid treatments for common outdoor injuries and illnesses, and how to make appropriate evacuation decisions. This course is based on the specific curriculum developed by the BSA, which includes a management dimension that most course fail to address. Instruction will take place in classrooms, as well as outdoor settings regardless of weather, so be prepared for any condition.
Upon successful completion of the course, participants will receive certification from the Emergency Care & Safety Institute, which meets the BSA's requirements for WFA training.
Subjects: Personal Protective Equipment, Patient Assessment (Primary & Secondary), Evacuation plans, Shock and Cardiovascular Emergencies, Wounds, Infections, Bone and Joint Injuries, Splinting and Improvisation, Severe Bleeding, Allergies and Anaphylaxis, Chest Injuries, Bleeding and Bandaging, First Aid Kits discussion, Hypothermia/Hyperthermia & Altitude, Head, Brain, and Spinal Injuries, Lift and Carries, Abdominal and Pelvic Injuries. Burns, Lightning Strikes, Submersion & Drowning.
Lead Instructors: Cash Murphey and Chris Lucsik, Outdoor Emergency Care instructors certified by the National Ski Patrol and ECSI
---
---
Registration.
Below, choose from:
Day 1 CPR 8am-12:30pm
OR
Day 1 CPR 1pm-5:30pm
...both include Day 2 & Day 3 Wilderness First Aid at Camp Verdugo Oaks. NON-OVERNIGHT
Space is limited to 12 participants total (6 participants per CPR session), so sign up today. Priority registration for Verdugo Hills Council members until April 28, 2023, at 11:59 PM. After that, any remaining spots will be filled from the waiting list until May 6, 2023, at 11:59 PM.
If you need help registering or wish to join the waiting list, please contact Camping and Activities Registrar Wendy Tateishi at Wendy.Tateishi@Scouting.org
Wilderness First Aid w/CPR May 13th 8am-12:30pm May 20, 2023 to May 21

Register Today
Wilderness First Aid w/CPR May 13th 1pm-5:30pm May 20, 2023 to May 21

Register Today