Thanks "Giving"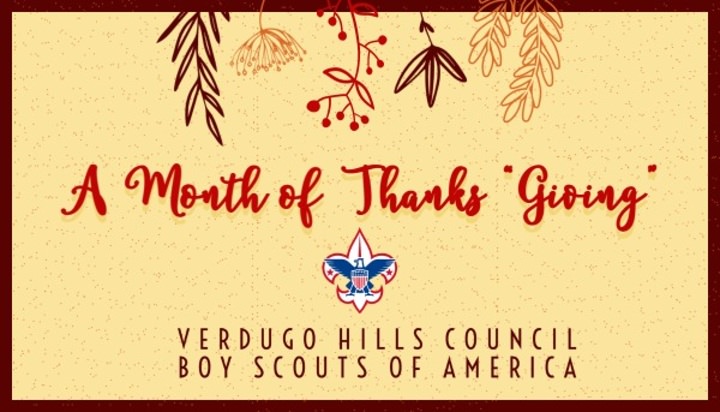 Thanksgiving provides an opportunity to reflect on the fullness of the life we have and to celebrate family, friends, and our community. Scouts learn to express gratitude through cheerfully providing service through Scouting for Food (Our Annual Food Drive for the hungry), various service projects supporting our most vulnerable members of society, and participating in Veteran's Day events. We are grateful for these opportunities to help Scouts learn and grow to be contributing members of society and participating citizens.
During November as we express gratitude for people and things that have enriched our lives we hope that Scouting has been a force for good in your family's life. Whether it has shaped your personal character and values, served you and your family in a time of need, or provided an opportunity for you to realize the blessing that comes from serving others we know that Scouting truly makes a difference.
In acknowledgement of the value that Scouting creates we humbly ask that you consider joining our Thanks "Giving" campaign this November. In order to keep the magic of Scouting going in the Verdugo Hills Council we are seeking 25 donors each day in November, to contribute a minimum of $25 during the month of November.