Scouting for Food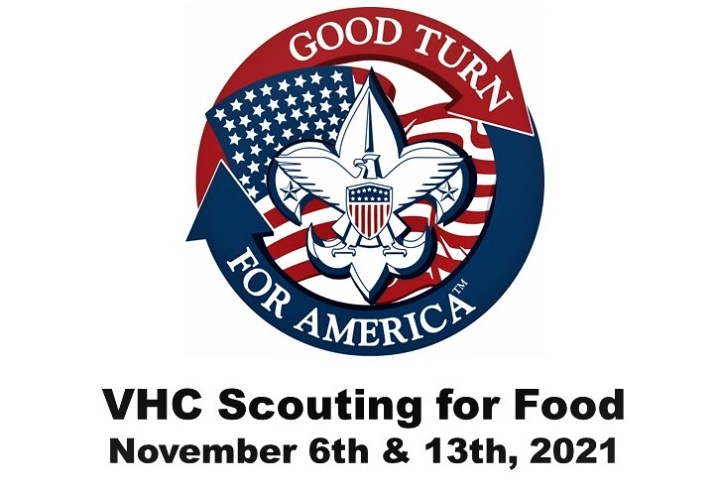 Fall is here and it's time for one of Verdugo Hills Council's most time-honored traditions - Scouting for Food. This council-wide service project is for Scouting youth and adults of all ranks and ages.
From Cheryl Turner, 2021 Scouting for Food Chair
Hello Scout Leaders:
As with last year, we are still working under COVID-19 rules for Scouting and this affects the Scouting for Food Service Project. In an effort to continue assisting families in need and to minimize handling by our Scouts and volunteers, many of the changes we made last year are still in place.
First and foremost, all Scouts/Scouters must follow the current protocol for Scouting during COVID-19. The current rules are available at https://www.vhcbsa.org/covactivityprotocols.
Next, we will have units sign up electronically, providing important contact information and selecting your unit's service [delivery/pick-up] area. The instructions are in the 2021 SFF Manual. If you participated last year, and want to keep the same streets you covered, you should not need to select it again, but please be sure to log in to the site to confirm your area. You can also make changes if you want to cover more streets. Please only select areas that have not already been selected. If you have questions about signups, please contact Wendy Tateishi at Wendy.Tateishi@Scouting.org.
We are happy to report that The American Legion in La Crescenta WILL be a collection site again this year. Units that dropped off their bags directly at Sue's Garden in 2020 should drop them off at the American Legion.
Due to COVID-19, Trader Joe's is still unable to provide pre-printed paper bags. They will, however, donate plastic bags which are very much appreciated. Units can print the necessary information regarding collection items and pick up times/dates on paper and staple them to the bags. This is similar to how it was done many years ago. There is a template provided in the 2021 SFF Manual.
2021's drop off and pick up dates are November 6th and November 13th.
Bags are currently available for pick up at the Verdugo Hills Council or at my home in La Crescenta. Please email Brandon Mejia at Brandon.Mejia@Scouting.org to arrange pick up at Council or me at Scouter.Turner@gmail.com for pick up in La Crescenta. Please include the number of bags you want in your email.
We appreciate in advance the commitment of your units to this important service project and ask that you remain flexible as we move forward.
If you have any questions, please contact me at Scouter.Turner@gmail.com, or text (818) 406-2248.
YIS,
Cheryl Turner
Scouting for Food Chair
Verdugo Hills Council