Career Exploration Merit Badge Day, 6/17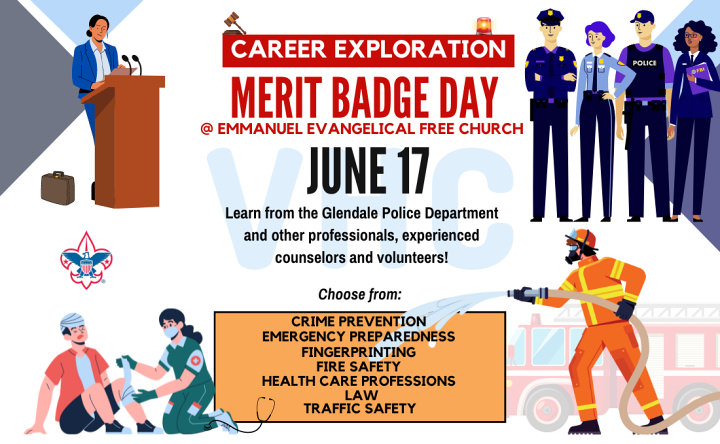 Join us for a day of career exploration while earning merit badges, brought to you by the Verdugo Hills Advancement Committee!
Many of our staffers are professionals in their respective merit badge sessions, including officers and technicians from the Glendale Police Department. Whether Scouts are considering career options or exploring new topics, this is an opportunity to ask questions and learn from authorities in these fields. Counselors are looking forward to meeting your Scout!
VHC Career Exploration Merit Badge Day
Saturday, June 17, 2023
Emmanuel Evangelical Free Church
605 N 5th St.
Burbank, CA 91501
at the corner of N 5th St. and E Cypress Ave.

Cost is $35 per Scout
Maximum two merit badges
Lunch included
---
Check-In and Pick-Up
Check-in time is 20 minutes before the Scout's first session begins
Pick-up is 15 minutes after the Scout's last session ends
If your Scout is signed up for the FIRE SAFETY + FINGERPRINTING merit badge bundle beginning at 10:00am, drop off is at Burbank Fire Station HQ, 311 E Orange Grove Ave, Burbank, 91502.
This group will walk back to Emmanuel Evangelical Free Church to have lunch, then continue the sessions on church premises. Pick up is at the church.
If your Scout is signed up for

FIRE SAFETY beginning at 8:00am,

drop off is at Emmanuel Evangelical Free Church, 605 N 5th St, Burbank, CA 91501 (corner of N 5th St and E Cypress Ave).
The session begins at the church at 8:00am. Mid-morning, this group will walk to the Burbank Fire Station HQ, then walk back to the church for lunch.
---
(Click on schedules to enlarge)
---
Review the GUIDE for all prerequisites, forms, and other important camp information.
And...
Be Prepared.
In the spirit of our motto, BE PREPARED, Scouts should:
Read and understand the requirements of the merit badge and all counselor notes before attending

and complete the stated prerequisites in the GUIDE

. For your convenience, all merit badge workbooks required by counselors are included below.

Obtain signed blue merit badge cards from your Scoutmaster before arrival.

An additional $5 will be charged for VHC to provide blue cards, and a $10 fee will be charged to replace lost blue cards. Unit advancement coordinators are responsible for recording/approving completions/partials.
All of the above must be completed prior to the event.
---
Volunteering
VHC appreciates your support! If you would like help out at the event, please contact Wendy Tateishi at Wendy.Tateishi@Scouting.org by June 1st. Volunteers must be in compliance with all BSA policies.
---
Registration closes after June 11th or when capacity is met.
| File Name | Description | |
| --- | --- | --- |
| Annual Health & Medical Record Forms - A, B1, B2 | REQUIRED FOR ALL PARTICIPANTS: Fillable form for this event. | Download |
| Crime Prevention MB Workbook | REQUIRED by counselor for Crime Prevention Merit Badge Sessions 1& 2 | Download |
| Crime Prevention Merti Badge - BSA Home Security Checklist | REQUIRED by counselor for Crime Prevention Merit Badge Sessions 1 & 2 | Download |
| Emergency Preparedness MB Workbook | REQUIRED by counselor for Emergency Preparedness Merit Badge Sessions 1 & 2 | Download |
| GUIDE to Career Exploration Merit Badge Day, 6/17 | Find PREREQUISITES, Scout Checklist, Counselor Profiles, and other information for your Career Exploration Merit Badge Day! | Download |
| Health Care Professions MB Workbook | REQUIRED by counselor for Health Care Professions Merit Badge Sessions 1 & 2 | Download |
| Traffic Safety MB Workbook | REQUIRED by counselor for Traffic Safety Merit Badge Sessions 1 & 2 | Download |