The Adventure Begins...Summer Programs 2023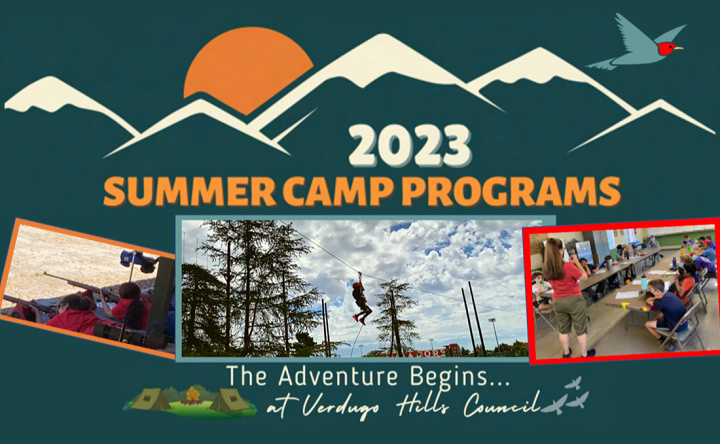 ---
The Adventure Begins...
VHC Summer Camps 2023
Dear Parents & Scouts,
The Camping & Outdoor Programs Committee at Verdugo Hills Council has been working hard to bring you the very best summer camping programs for summer 2023! We'll bring you the old favorites that you know and love as well as some brand-new programs to excite your Scout! Get Ready as "The Adventure Begins…" at Verdugo Hills Council!
Cub Scout Resident Camp at Camp Verdugo Oaks returns this summer with a "It's a Wizarding World" theme. Cub Day Camp at St. Dominic's Church in Eagle Rock is back and this summer the theme will be "Off to The Races!" Get your registration in soon as these programs will sell out!
For those older youth in the Scouts BSA and Venturing Programs, we have the always amazing Shooting Sports Camp and Film & Art Camp held at Camp Verdugo Oaks. These camps are awesome! Can't make it to CVO, but want to make movies? Returning favorite Cyber Film Camp is available online and back at the end of July!
We're excited to announce a brand new week-long "Rescue 911" Camp to be held at CVO with a focus on first aid. Check it out and sign up soon!
Following on the heels of our amazingly successful challenge course week at CSUN in 2022, comes the revamped "Ropes Academy at CSUN" for those Scouts that want to push themselves mentally and physically!
We'd be remiss if we didn't mention that summer 2023 is a National Jamboree year with the Jamboree Theme of "FORWARD" being held at the Summit Bechtel Reserve in West Virginia. Verdugo Hills Council will be there… will you?
Volunteer as SUMMER CAMP Staff!
VHC Summer Programs run on VOLUNTEER POWER, so sign up for summer fun with your camper! Interested in volunteering for Cyber Film Camp? Info HERE.
Gear up at our ONLINE Camp Verdugo Oaks Trading Post, with items shipping direct to you.
Parent Orientation Night for Summer Camps is June 7th. Is your Scout attending Cyber Film Camp? Your Parent Orientation Night is July 12th. Info HERE.
As always, as you peruse our camp webpages, please don't hesitate to reach out with any questions. We look forward to seeing you in camp this summer.
Let's make summer 2023 a safe and exciting Scouting Adventure!
Yours in Scouting,
David Potter
VHC Vice President of Program
David.Potter@vhcbsa.org
Peter Basler
VHC Camping & Outdoor Programs Chair
Peter.Basler@vhcbsa.org
P.S. You can sign up provisionally!
The mission of the Boy Scouts of America is to prepare young people to make ethical and moral choices over their lifetimes by instilling in them the values of the Scout Oath and Law.
---
A SAFE & EXCITING SUMMER ADVENTURE
As we all know, living with COVID has become reality. Please know that the Camp Staff at Verdugo Hills Council is committed to a safe and fulfilling summer of camping. Your Scout's safety is our number one concern! As LA County Protocols are changed or amended, our safe camping practices will change as well. For the most up-to-date Verdugo Hills Council Policies regarding summer camping, please visit it here.
PEANUT POLICY
FOR VERDUGO HILLS COUNCIL CAMPS
Sensitivity to peanuts and food made with peanuts is an increasing risk to Scouts with such an allergy. At Verdugo Hills Council, we ask that no peanuts be brought into our camps.
Foods sent in for snack or lunch at our Cub Day Camp should be carefully checked to make sure they are peanut free. Any food or snacks sent via Camp Mail to our Resident Camp Programs should also be carefully checked as well!
This means that all food products can not contain peanuts and can not have the following warnings: "may contain…", "processed in a facility…", and "manufactured on shared equipment…"
Scout families can help ensure that our camps stay peanut free by reading packaging labels and by reminding children not to share food with other children at camp.
Thank you for your help in making summer camping in Verdugo Hills Council a healthy and rewarding experience for our Scouts!
- Camping & Outdoor Program Committee
---
Resources (camp program welcome packets are on the way!)
| File Name | Description | |
| --- | --- | --- |
| 3/7/22: VHC Protocols for In-Person Outdoor Scout Meetings and Activities | Updated VHC protocols based on the CDC, State of California, and Los Angeles County Department of Public Health. | Download |
| Annual Health & Medical Record Forms - A, B1, B2 | Fillable form required for some programs. Check respective program webpages to see if this form is required. | Download |
| Annual Health and Medical Record Form, A, B1, B2, C | Fillable form required for some programs. Check respective program webpages to see if this form is required. | Download |
| COVID-19 Screening Form for CVO - Unit | REQUIRED form for all programs that meet at Camp Verdugo Oaks. | Download |
| The Adventure Begins...VHC Summer Camps 2023 Brochure | Full VHC Summer 2023 offerings for Cubs, Scouts BSA and Venturers. | Download |